Whenever we polish off a jar of pickles, I find it sooo hard to toss the empty glass jars in the recycling bin.
Instead of throwing away glass jars – with a bit of creativity you can reuse glass jars by upcycling and decorating them.
Here are 20 practical (and some creative) ways you can re-use and repurpose glass jars around the home 🤗
This post contains affiliate links to help our readers find the best products.
Glass Jar Idea 1: Transfer bulk ingredients
Love to save money buying bulk foods but hate storing them in their original packaging?
Transferring bulk ingredients like flours, seeds, rice, and raw nuts in glass jars make a really inexpensive solution to food storage containers.
The best part, you can see through glass jars and can locate your ingredients quickly when cooking.
Glass Jar Idea 2: Pack lunch to go
Have you seen those trendy prepared salad glass jars at your favorite whole foods grocer lately?
Fill a large empty glass jar with your favorite salad greens, pasta, pumpkin or layer yogurt and homemade dressing.
Leave some space at the top of the jar so you can mix the ingredients together by shaking the jar.
Oh and you don't have to pack salads, I've added rice and veggies into glass jars when we go on road trips as well.
If you don't have any large glass jars, call your local recycling center or transfer station and ask if they have any.
f you don't have any large glass jars, call your local recycling center or transfer station and ask if they have any.
As a last resort, Amazon has wide mouth 64 oz glass mason jars with lids on them with an extremely tight seal so that the dressing doesn't leak.
Glass Jar Idea 3: Stationary holders
When it comes to organizing stationery items, rectangular containers provide better use of space.
However, you can place flash drives, paper clips, staplers, and small post-its inside small jam glass jars in lieu of partitions.
They do the job just as well, and they're free. Plus, it's easier to clean them, since you don't have to remove the whole tray out of the drawer.
Glass Jar Idea 4: Flower vase
Want to add some tranquility and nature to your home?
How about decorating it with some lace around glass jars and displaying pink roses or flowers inside them?
I love these glass decoration ideas from 'Style it like you stole it' – these flower vases make such beautiful decor on the cheap!
Glass Jar Idea 5: Carry soups
Forget tupperware, glass jars make the best containers for carrying soups and stews without any spillage.
Glass Jar Idea 6: Mini dip containers
Guacamole, hummus and olive dips can be stored or served in cute jam or baby food glass jars.
It also makes a great portable snack that you can pop in your handbag.
Simply fill the jar with your favourite dip and pack carrot sticks in beeswax wraps.
Glass Jar Idea 7: Dried herbs & spice storage
If you dry your own herbs/spices or buy them in bulk, consider storing them in empty glass jars and adding labels on them.
Glass Jar Idea 8: Homemade face serum container
I don't use any moisturizers besides a homemade face serum as part of my anti-aging routine.
The recipe is simple:
2 tablespoons of jojoba oil and
1 drop of frankincense oil
Mix together and transfer to a small glass jar.
It's such a great anti-aging serum that smoothes fine lines and moisturizes your skin.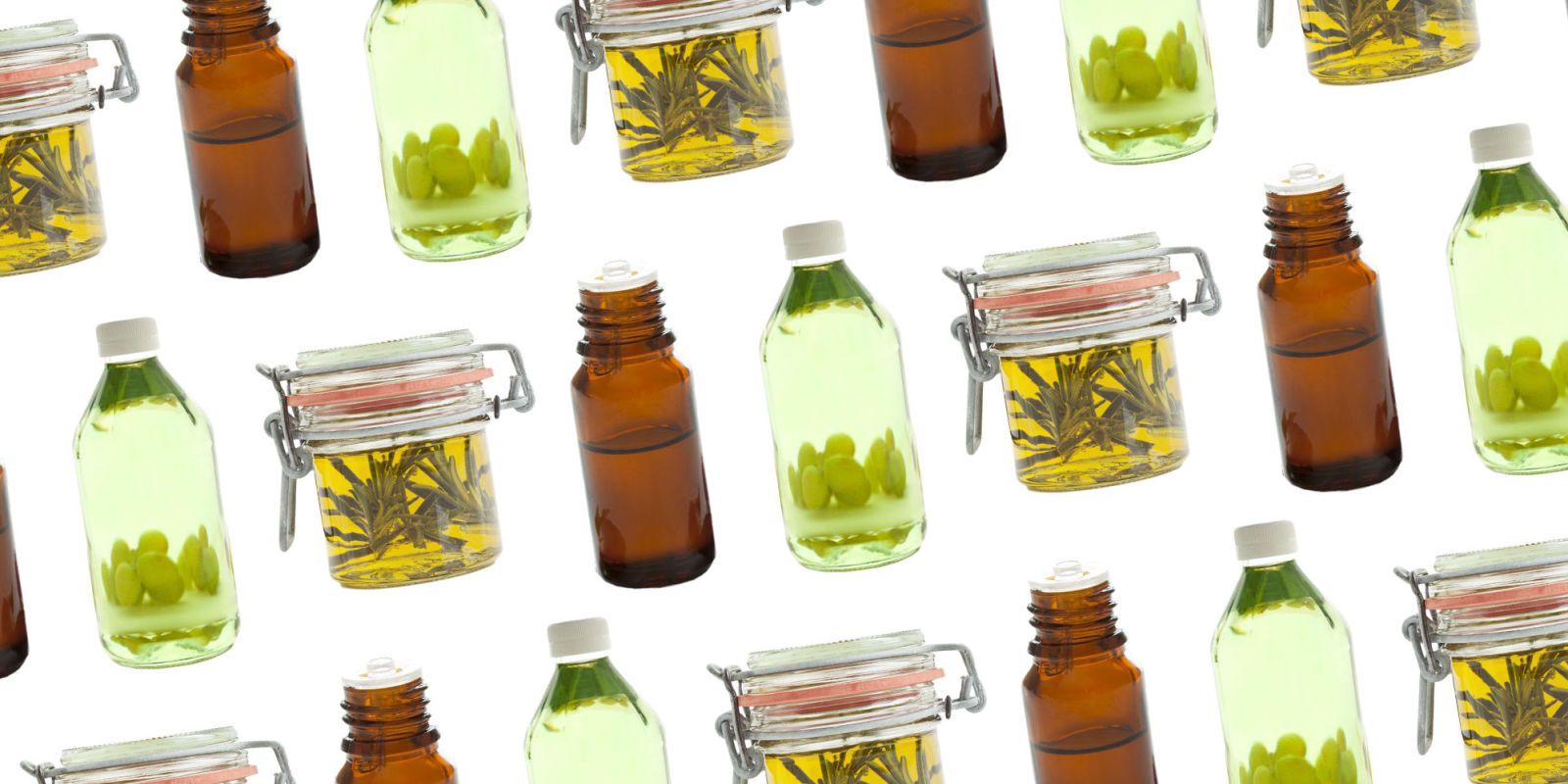 Glass Jar Idea 9: Coin jar or piggy bank jar
Got spare change lying around or want to help your kids set up their own piggy bank?
Fill an empty glass jar with coins and save for a rainy day 💰.
Glass Jar Idea 10: Nails, nuts and bolts storage
This one is for the boys especially if they have their own work shed.
Store nails, nuts and bolts in empty glass jars to prevent them rusting or any family members stepping on them.
The image below explains it all.
Glass Jar Idea 11: Tea light candle holders
Simply place your tealight candles inside small glass jars to create a beautiful, ambient atmosphere.
They would look lovely on your dining table or placed on tables at a wedding or other event.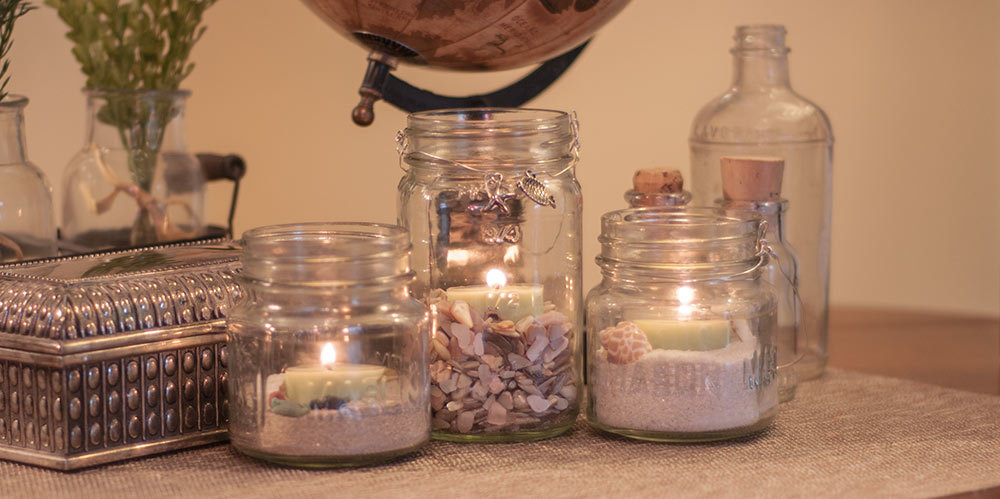 Glass Jar Idea 12: DIY door stopper
There's no need to spend a fortune on a pretty doorstop.
All you need is a large empty sauce jar filled with heavy stones or pebbles to create a unique doorstop.
Glass Jar Idea 13: Homemade body scrub
I make my own coffee body scrub that acts as an excellent natural body exfoliant. This recipe makes 2 cups of coffee body scrub.
Ingredients:
1 cup of ground organic coffee
1 cup of organic sugar or salt
1/2 cup organic coconut oil
1/2 tablespoon cinnamon (optional)
1 tablespoon vanilla (optional)
Steps:
Melt coconut oil and allow it to cool but not solidify.
Mix all ingredients together
Store in an airtight container or mason jar.
Use 1-2 times a week.
Glass Jar Idea 14: Serving smoothies
Empty glass jars are such an awesome way to serve healthy delicious smoothies.
You can prepare your morning smoothie by filling a jar with ingredients and keeping it in the fridge overnight.
When you're ready, just empty the jar's content in the blender and blitz!
Glass Jar Idea 15: Serving cocktails
Fruit vodkas served in glass jars. Need I say more?
Glass Jar Idea 16: Store DIY laundry detergent
Keep your laundry room organized by transferring laundry powders and detergents into glass jars.
Alternatively, you can make your own DIY laundry powder with this simple recipe:
2.15 kg Borax
1.81 kg Baking Soda
1.5 kg Washing Soda
425g Dr Bronner's bar soap
Tools:
A large bucket or Esky
A large glass jar
food processor or grater.
Steps:
Grate the soap bar – you can use a food processor to chop it into small pieces. This helps it dissolve better in the wash, however, you can use a hand grater, if your going to do that I'd use the fine side.
Mix everything together in a large bucket or Esky.
Store it in an airtight container or use your large empty glass jars.
Glass Jar Idea 17: Candy lolly jar
Here's a fun way to store candy for the kids or gift sweets to friends.
Glass Jar Idea 18: DIY snow globes
These DIY snow globes are so adorable and make great bedroom decor.
Laura from Makelifelovely provides detailed instructions on how to make Anthropologie inspired snow globes step by step here.
Glass Jar Idea 19: Growing herbs
Buying fresh herbs every time you cook can get pretty expensive – maybe it's time to try growing your own?
Grow them in jars and they'll look lovely sitting on your kitchen windowsill. Check out the Trimcraft blog to learn how to make your own herb pots.

Glass Jar Idea 20: Tea light candle holder
Set the mood for that romantic dinner with some tea light candles popped into empty glass jars.
Pour sand or shells into the glass jar about 1/2 inch deep.
Then place one tea light candle in each jar by pressing it firmly so that the sands or shells hold it into place – then light it up baby!
Did you find this post useful? Save THIS PIN below to your Zero Waste board on Pinterest.
This post contains affiliate links to help our readers find the best products.